Search Engine Marketing
Getting you MORE business from your site NOW.
Search Engine Marketing (SEM) is placing adverts in Google's search engine results pages for a fee per click or per call (PPC).  A properly executed Pay Per Click campaign will yield immediate traffic to your website, and keep the costs within your specified budget.
AB DEV are experts in SEM, we create an optimised campaign that gets the most clicks, for the lowest spend.  Unlike social media campaigns such as Facebook adverts which mostly interrupt social time similar to TV ads, Google Ads get you in front of your ideal clients when they are ready to buy and actively searching for your products or services.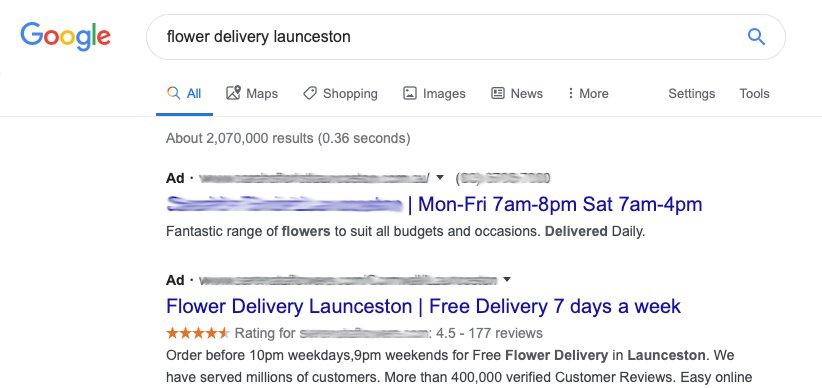 Are you advertising in Google?
If not, you're missing business, and we can help!
SEO is a much longer term strategy, advertising directly in Google gets you traffic to your site almost immediately, so is a great way to advertise time sensitive specials, and also to ensure you start getting a return on your website investment immediately.
Also, when compared with Social Media paid advertising, Google paid advertising is better at getting visitors who are ready to buy now to your website, whereas the social paid ads are better at building your brand awareness by more subtly interrupting social and entertainment time, similar to TV adverts.
So if you want people who are ready to buy your products and services, and who want to buy them now, Google Ads are the way to get those people to your site now.
Our Experience, 10+ Years
Established in 2008, over a decade in business says it all.  
Fly by night operators come and go, our business has stood the test of time.
ANALYSE
We analyse your existing site and identify issues.
PLAN
We make an action plan to resolve the issues identified.
IMPLEMENT
We implement the agreed action plan.
RESULTS
You get more traffic to your site, and make more sales.
Already got SEM Underway?
Check out the other Online Marketing Services
Social Media Marketing
Social media is about engaging with your customers on a medium they're comfortable with.  Facebook, Instagram and Twitter are where your customers hang out, get in front of them there.
Search Engine Optimisation (SEO)
Google is search, that's where your clients are looking when they're ready to buy.  If you're not on the front page, you're nowhere.  We help you get on the first page of Google.
Email Marketing
Email has stood the test of time, and proven itself effective for marketing specials, updates, cross sells, remarketing and abandoned cart followups.  We get you in the inbox.